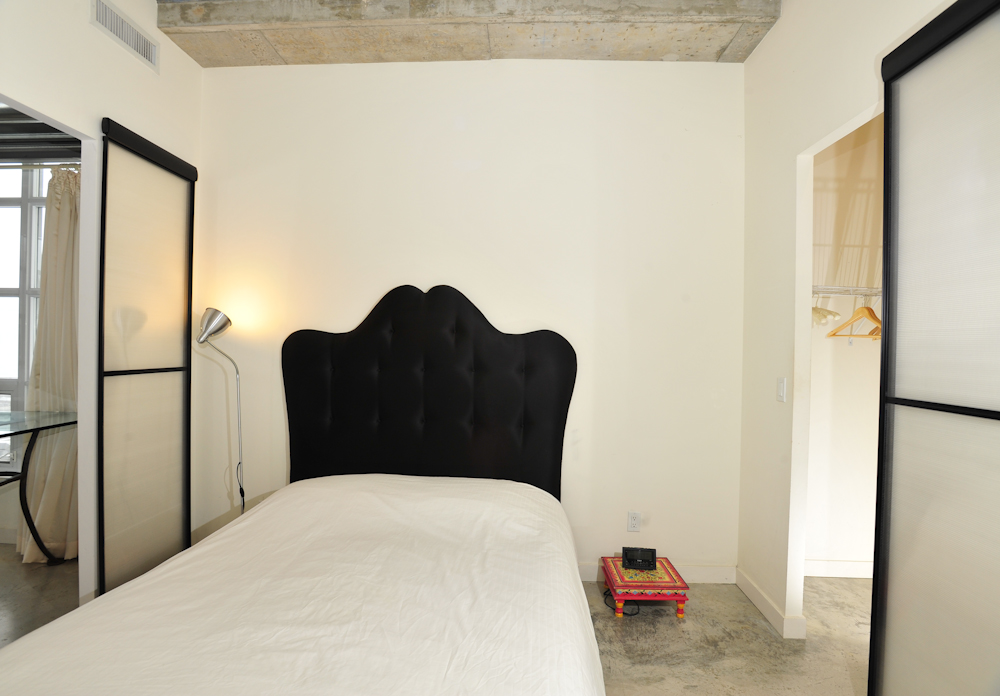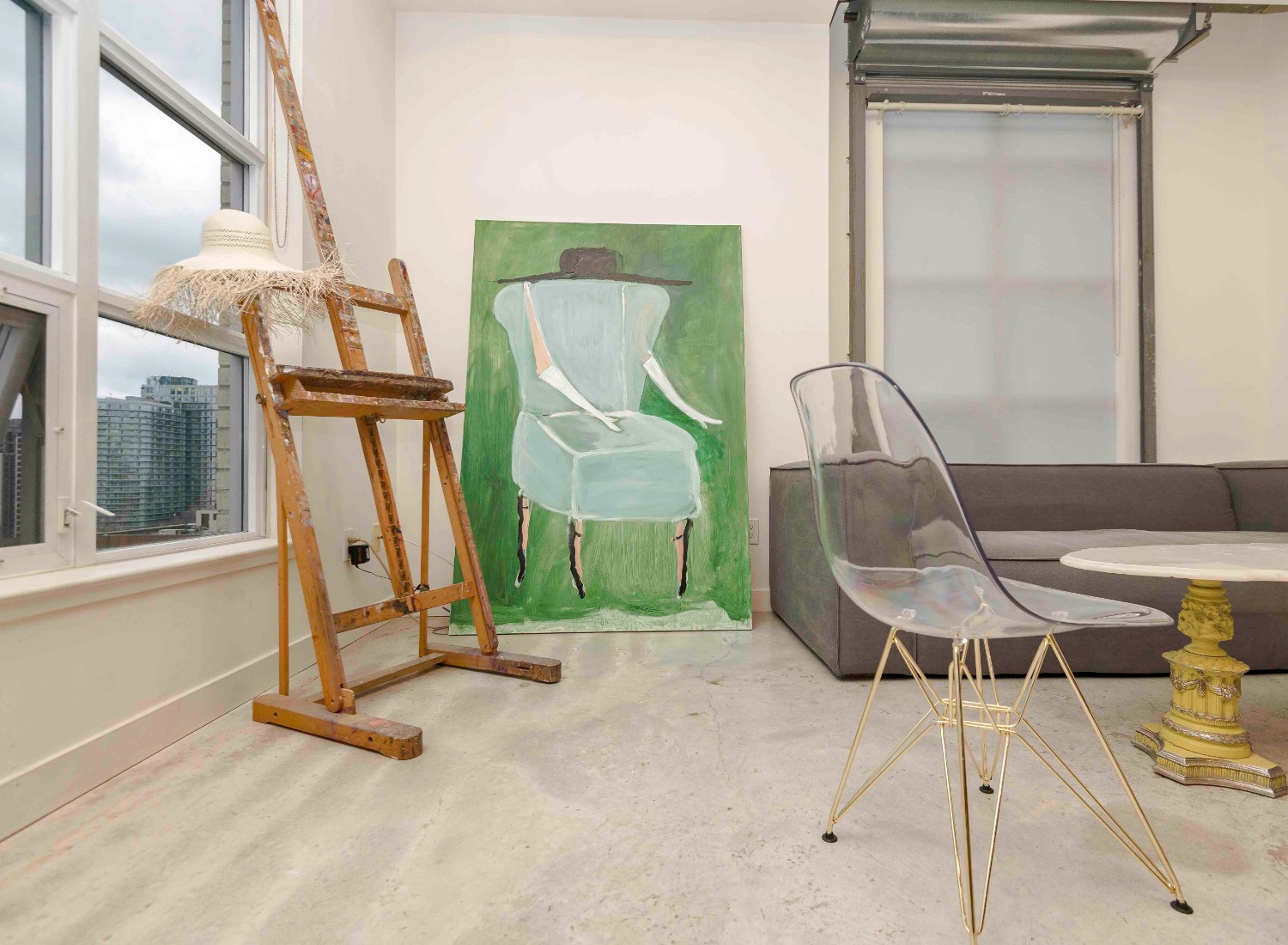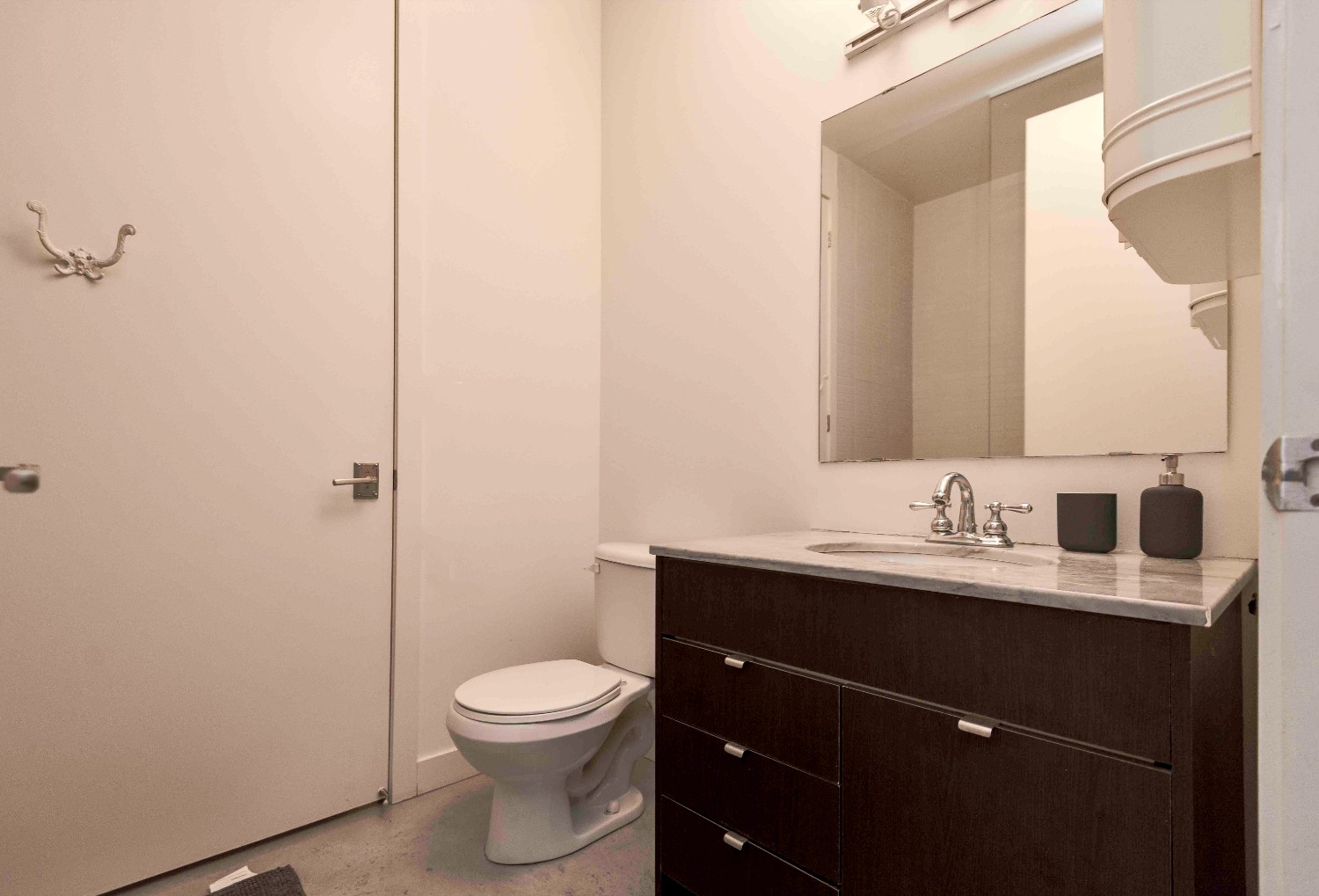 Fashion District Furnished Suites
The Fashion District Furnished Suites is a fully furnished 1 bedroom plus large den, located on the best stretch of Trendy King Street West near Spadina Avenue, in the heart of the Fashion District. This fantastic open-concept Unit is 870 Sq Ft large with stunning concrete floors throughout, and features floor to ceiling windows with a spectacular view of downtown. The condo also has very high, 13 Ft Ceiling. Spacious Den Houses A Dedicated Office Space. The Unit Has Been Newly Furnished By A Designer With Beautiful Sleek Furnishings. Full Linens And Kitchen Amenities Set Provided.
Cool and modern design, combined with a collection of unique furniture and art-inspired items that make this condo extremely unique. From its 9-foot stainless steel dining table, to the vintage artist easel and large-scale original paintings, this unit invites you to live in a truly unique type of space, a space completely different from the typical furnished Toronto condo. As you walk in you'll see the full office room that is in the den, with a large, raised industrial glass-top desk with custom steel rebar legs, and black vintage stool. It is ideal for a work space, it is well-lit, quiet and helps you to concentrate on your work. Many personal touches and home accessories make this unit feel like an artist-in-residence environment, while the excellent amenities like bluetooth wifi speaker, full service bath and bedroom linens, and fully stocked kitchen all make this furnished suite an extremely comfortable place to live. Along the sleek hallway to enter the main living area, you will see the beautiful custom floor-to-ceiling storage cabinets with a natural wood facade. These cabinets provide a huge amount of storage space, for anything from your large-size suitcases to your extra daily items that you want to access easily. The wash/dryer is also located in this hallway cabinet.
The bedroom features an elegant double bed with a custom black silk headboard, and a huge walk-in closet with plenty of storage and hanging space for your clothes and shoes. the bathroom has a modern stand-up shower with a sleek glass wall, and modern fixtures. The living room is a very well balanced with its floor to ceiling windows, which provide you with a clear view of downtown Toronto and the CN Tower. Two large sofas provide you with the ultimate lounge space to enjoy entertainment on the HD flat screen TV. The kitchen area is anchored by the large steel dining table which can seat 6 people. The clear dining chairs ensure that the room feels open and spacious. Your gas stove can help you to cook the best home-made meals using any of the full kitchen utensils we have provided.
The Building and Courtyard
This Award-Winning Loft is built around a stunning private courtyard that is set back from King and Spadina, providing privacy and a quiet living space. It is walking distance to the city's financial core, Queen Street West, and the most fabulous restaurants, shops, theatre and nightlife entertainment. The streetcar stations are literally at the front entrance and can take you east-west or north-south to any destination where you need to go. The building provides excellent concierge services, a fully-equipped gym, a large party/TV viewing room with a billiard table, and a terrace with BBQ. This super modern short term rental is part of our exclusive Downtown Furnished Apartments Toronto Collection.
Lease start dates can be flexible. An exit cleaning fee of $110 applies to all rentals. Parking space underground is available based on availability.
Overview: Fashion District Furnished Suites
Type: 1 Bedroom + Den Furnished Apartment
Location: King St and Spadina
Call To Reserve: 647-715-2102 or toll free 1-800-257-9483
Included Amenities
All services are included: All Utilities, Hydro, Unlimited WIFI Internet, Cable TV Package, Bed Linens, Kitchen utensils, Bath Linens, en-suite washer/dryer and dishwasher.
Building facilities: full gym, spin cycling room, business meeting room, roof-top party deck, Billiard room.
Suite Location
About The Fashion District
This part of King Street West is by far the most stylish and charming – the early 20th century converted factory buildings with the original brick exterior provide a unique old-city charm to this part of King Street, which is unique in Toronto, where most buildings are new. The many cafes and restaurants in the immediate block near your furnished suite make it very convenient and fun to explore the city. You can walk less than 5 minutes from your apartment and go to 15 different restaurants, from Italian food at Buca and Gusto to rap star Drake's new spot called Fring's, or 930 Sushi and even authentic Spanish food at trendy Patria. Forno Cultura, the city's best Italian bakery is just a block away, and so is Wvrst, the city's best late-night sausage and beer restaurant. There are also plenty of gyms in the area if you want a different type of work-out – Quad Spin provides the best Spinning classes in the city, while Totum Life Science provides a unique, highly-stylized space to get a full work-out. What is best about this condo is that all of these locations are literally within a 5 minute walking distance from your furnished apartment. You can even go for a Ping Pong game at SPiN, Toronto's new Ping Pong social club. The area also offers several grocery options from Fresh & Wild to Sobey's and Kitchen Table – regular or fully-organic options are both within walking distance. For shopping, you can head up to Queen Street where you will find an endless number of boutiques and shops including Club Monaco, LiveStock Sneaker Shop, or just H&M. You're also about a 10-minute walk from Toronto's China Town, which is one of the largest in North America – here you can not only find authentic Chinese food, but you are also bound to find literally any strange item that you are looking for, in one of the many Chinese malls in this area. It's one of the most eclectic and interesting parts of downtown Toronto.
To find out more about our furnished luxury apartments please email us any time at info@torontoboutiqueapartments.com or call us at 647-715-2102 or toll free 1-800-257-9483.
Peak March to October
$3,900/month
Off-Peak November to February
$2,900/month
All services (utilities/WIFI/TV, etc) included. Inquire about our Car Rental Promo!
Book Your Toronto Furnished Apartment Today